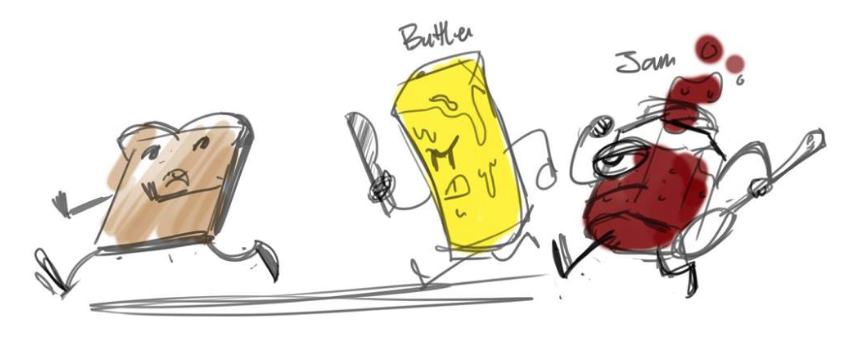 Race Condition Running
---
---
RSS Feed

Endolyne Joe's
29 June 2019
Bienvenue à la Nouvelle-Orléans et Endolyne Joe's!
With marathon training in full swing, this week RCR ran the 20 miles from Golden Gardens to the west side of West Seattle. The weather was excellent and the views were almost amazing enough to make us forget that we were running for more than three hours. Almost.
Most of the route was on familiar turf for us. Only a mile or so south of Alki Beach, near the Vashon Ferry terminal, did we finally venture onto new terrain. It turns out there's a giant hill there. Who knew?
Fortunately, after the giant hill there is Endolyne Joe's, a restaurant which features a different region of the Americas every few months with a special menu and extensive decor. When we went, they were paying tribute to New Orleans. And let me tell you, it looked like the French Quarter blew up inside the restaurant, in a good way. There were Mardi Gras beads and masks, giant paper mache jazz instruments, and street signs from the Crescent City.
We started off with an order of beignets which, as is right and proper, were served in a paper bag filled with way too much powdered sugar. The beignets also came with a delicious blueberry compote. They were hot and delicious. About as good as can be this far from Cafe du Monde.
The orders around the table varied. The Andouille sausage skillet with a Cajun pepper hash was excellent. The forager's omlette was another favorite.
All in all, our trip to the Big Easy was an excellent way to recover from a weekend long run. We hear that the restaurant will turn its attention to Puerto Rico soon. We'll have to come back.
Verdict
Food: 4 beignets out of 5
Wait time: low
Music: on point
Chill Factor: Laissez le bon temps rouler
Woodinville Cafe
01 June 2019
Chooo chooooooooo!
Welcome to the Woodinville Cafe. The portions are big, but after 16 miles everyone cleared their plates.
The interior is decorated in charming train themes. Think Cracker Barrel but for train conductors. Old railway signs and advertisements and luggage racks (complete with actual luggage!) adorn the walls.
The great mystery is: Who's luggage is this? What's inside of it?
Some say the luggage comes from SeaTac, drawn from every corner of our great globe, the stuff that no one claimed after a few weeks of the poor bags slowly and sadly circling the luggage conveyor. If that's true, then this luggage may be the luckiest to have ever been abandoned. In its new life, a suitcase or duffel bag now sits high on the wall, surveying the joy and happiness and bustle of a vibrant diner ecosystem. No longer does it need to slave for ungrateful travelers who barely notice its existence, indeed who had completely forgotten and abandoned it. Instead each day is filled with smiles and laughter bubbling up from customers and the friendly chit chat from servers and hosts as they take care of their patrons with a smile and prompt service.
This was our first time up in Woodinville, so we asked the locals what they thought of the place.
Susan Suitcase (a blue 40 year veteran of the luggage racks with a smart chrome finish) felt that the Woodinville Cafe is experiencing a golden age in omelets:
Look kids, I've been here a while and what you may not appreciate is the level of fluff that this joint has been able to pull off. You go to any other diner in this neck of the woods and you aren't going to get this kind of fluffy omelet. Don't get me wrong, even the Denny's down the street can get a couple of light air bubbles, but this establishment is really taking things to the next level. I heard that last week in some new experiments they actually had an omelet that was so light, it FLOATED. Seriously, floating omelets! The kitchen went berserk. It was like trying to eat on the International Space Station or something. Eggs everywhere. I mean, I love light fluffy eggs, but things may be getting out of hand here. As our technological progress accelerates, it's important that our reach not exceed our grasp!
Derek Duffel (a brown, heavy canvas fellow from the Nixon era) seemed disturbed by Susan's account and tried to provide some more context:
Susan has been here a long time and seen some shit. You have to recognize that a diner is a busy place, lots going on, all sorts of folks coming in and out at all hours; weird stuff happens. I mean, we love Susan, but she's coming unhinged. Literally. Like, they had to bring in the luggage repair guy and he ordered new hinges for her. I think we'll stop hearing about all this space station nonsense once she's back from the doc. At least, I hope so or they'll have to retire her to the Value Village on the other side of the parking lot…
Logan, a rising star on the host staff, reassured us that the luggage, while quite friendly, was not actually sentient and that delirium and dehydration due to running 16 summer miles were more likely explanations for our experience. Logan was extremely friendly, got our food out promptly, kept the ice water flowing, and checked in frequently to make sure everyone at the table was recovering all right.
Verdict
Food: 3 diners out of 5
Not-too-loudness: 4 gentle nighttime clickety-clacks of the rails out of 5
Train-themed-ness: 5 "loco"-motives out of 5
Chill Factor: 5 delirious runners out of 5
Agua Verde
27 May 2019
Marathon training is in full swing, and we've started running on Mondays in addition to our Tuesday, Thursday, and Saturday runs. And this Monday was Memorial Day, so we ran in the morning and got brunch afterwards.
The route wasn't anything we haven't done a million times before. We started from CSE, ran up to Greenlake, then south to Fremont, and finished the loop on the Burke. However, the weather was gorgeous, and good times were had by all.
Since we ended near the University, we went to a local favorite, Agua Verde, a combination Mexican restaurant and kayak rental shop that sits right on the water overlooking Portage Bay. Since the weather was so nice, we sat on the outdoor deck and got great views of the water and Eastlake.
We ordered tacos (of the salmon, yam, and rockfish variety) and a burrito, as well as fruity drinks of various kinds. We also got chips and guacamole and tried the various salsas from the salsa bar. (The diablito is not actually hot; it's a lie. The habanero, on the other hand, is.)
Agua Verde recently changed ownership, and the new owners have tweaked some of the menu. For instance, the salmon tacos now come with kale. I thought the kale craze had died down, but apparently in Seattle kale is like grunge and does not go gently into that good night.
Overall, though, the food was good, and we will doubtless come back in the future as we have many times in the past.
Verdict
Food: 3 fish tacos 5
View: 5 kayakers out of 5
Wait time: Usually low
Fruit-shaped table markers: On point
Chill Factor: Sadly, they do require you to wear a shirt and shoes, but that's where the requirements end.
Derby
25 May 2019
This week, RCR had brunch at Derby, an upscale restaurant and part of a car club in SODO.
This week's route was absolutely incredible and while the forecast showed rain, we got none of it during the run. We started in the industrial district of Seattle and went over the West Seattle bridge to hit the Alki trail. More than half of the run was along the gorgeous Puget Sound. After touching the tip of Alki, we ran south to make a big loop around West Seattle and finally got back to the industrial district to get 15 miles.
Derby is one of the few brunch options in Seattle's industrial district. It is part of a country club for car enthusiasts and even provides a viewing area for customers to look at fancy cars! While the interior adds a club-like feel to the restaurant there is also a lounging area with big, cozy couches.
We ordered hash bowls (both veggie and beef), biscuit sandwiches, and coffee all of which was delicious. While meat-eaters will have no problem finding their perfect comfort food at Derby, vegetarians/vegans may be forced to settle for the veggie hash.
We will certainly consider Derby in the future, especially if we end a run in SODO.
Verdict
Food: 3 hot rods out of 5
Drink: 5 cups of coffee out of 5
Wait time: 1 minute (just to set up our table)
Chill Factor: 5 sweaty runners out of 5
El Chupacabra
18 May 2019
This week, RCR had brunch at El Chupacabra, a self-described Mexican cantina with punk-rock roots. We went to the West Seattle location after one of our favorite routes: Discovery to Alki.
The weather was glorious, and the views of the mountains were spectacular. The route starts in Discovery Park, drops into downtown Seattle, and traverses the industrial and shipping districts before finally crossing over into West Seattle and finishing in Alki Beach. As amazing as the run was, however, after 13.5mi we were all ready for food and drinks.
Every time we run this route, we brunch at El Chupacabra, a Mexican restaurant which has so well embraced its dive bar aesthetic that it's hard to tell it's only been open since 2011. The lighting inside is dark and the atmosphere chill, but since the weather was so nice we opted to sit outside and soak in the beach vibes.
An RCR favorite feature of El Chupacabra is their $18 pitcher of mimosa. Better deals are not found in Seattle. We ended up ordering two.
By far the most common order at our table was the breakfast burrito. Both wet and dry, the burritos here are quite good — good enough to satisfy both a Texan and erstwhile San Diegan.
All in all, El Chupacabra is a great place for a low-key brunch. It has the RCR stamp of approval.
Verdict
We rate all restaurants with a finely-tuned scale across a variety of dimensions, including food, wait time, and how okay they are with seating a bunch of people who just ran a half marathon.
Food: 4 burritos out of 5
Mimosas: 5 fizzy glasses out of 5
Wait time: None
Chill Factor: 5 sweaty runners out of 5
Also, bean dip is inferior to guacamole, and don't let anyone tell you otherwise.